The Perfect Five Day Itinerary in Cape Town
Traveling to South Africa from just about anywhere is quite the trek. Coming from Houston our travel time consisted of 27 hours, such a long journey, but definitely worth it! We kept comparing different places we had been to Cape Town, but it's just so diverse that it's not like one place. It mainly reminded us of California, Ecuador, and Philippines. It's so beautiful with the beaches, waterfront properties and vineyards for miles like California, and so luscious with greenery, yet a third world country like Ecuador and Philippines. We had a great time and would definitely go back!
Taj Cape Town
First I want to talk about where we stayed - Taj Cape Town. It's in a great location and the entire staff is extremely accommodating; our flight back to Houston was at 12:30AM and after our dinner they let us have another room so we could nap before our flight. They also had adapters for us to use and were very informative for any questions we had. Every morning we ate at the breakfast buffet and they had the best spread out of all the hotels I've been to. My favorite part was the freshly squeezed juices; I drank at least three glasses of that everyday! We had the pleasure of viewing 3 rooms - Presidential Suite, Heritage Bedroom Suite (our room for the duration of the stay) and Luxury Tower Room (where we slept for a few hours before our flight). All of the rooms were very nice with luxury linens and toiletries and absolutely no complaints!
Presidential Suite Sunrise
One morning we went to the Presidential Suite to watch the sunrise and it's incredible! Marble everywhere, heated bathroom floors and amazing views just to name a few!
I loved the view of our hotel room. On one end we could see the street still full of Christmas and New Year's decorations, on the other side we had this view - Table Mountain and a park. One day I was looking out the window and at the park I saw an albino squirrel being chased by a regular squirrel. I've never seen an albino squirrel before, so day made!
Day One -
Cape of Good Hope/Cape Point | Boulder's Beach | Chapman's Peak Drive | Lunch at Kalky's | Muizenberg Beach | Room Service for Dinner
Cape of Good Hope
Started the day off early with a Cape Peninsula trip. We hired a personal driver for the day - Jurie Brand and he was great! He's been a tour guide for 20+ years so he knows all the best places/photo opportunities to take you to!
Cape Point / Cape of Good Hope Hike
Amazing amazing views, but holy cow there were quite a few times where I thought I was going to topple over and die! You can kinda tell by the photo of Aria how windy it is - 35 MPH winds!! I've never experienced winds so strong! Often times they actually close down this hike because the winds do get so strong and it can be quite dangerous. We went here first thing, thanks to Jurie, so that we wouldn't get stuck in a long line/ park closure.
Wanna Swim with the Penguins?
Very important tip that you may not realize when you look up Boulder's Beach on Instagram - there are two different spots to view the penguins! Top photo is taken from the viewing deck where there are hundreds of penguins, but you can't get near them due to a fenced in deck. That's where most of them stay and their burrows/homes are. Bottom photo - a five minute drive from the viewing deck. This is where people can swim with the penguins and you can actually get close to the penguins.
Kalk Bay / Lunch at kalky's
Kalky's is a traditional fish and chips restaurant. TBH I don't much care for fish and chips, but Kalky's is a very popular place, not only for tourists but locals too! We saw quite a few sea lions there and that's because there's a few restaurants in the area and they clean the fish there and feed the scraps to the sea lions!
Muizenberg Beach
Muizenberg is one of the main beaches where the surfers go, hence the colorful huts! We came here for the photo op :D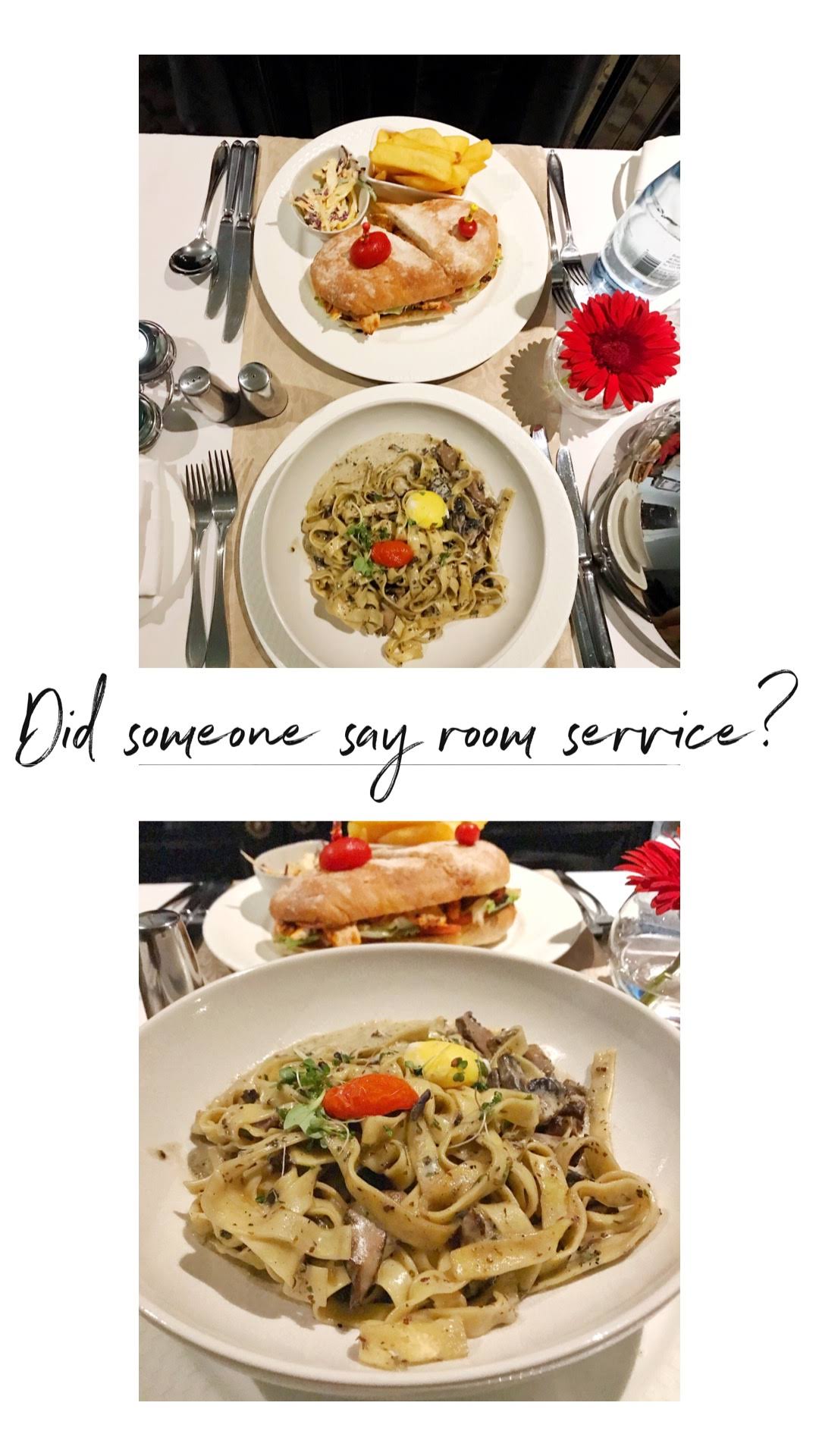 First Time Ordering Room Service
So after our long day we were both exhausted from being out in the sun and being jetlagged. Aria went to sleep at 6PM and poor me was left to fend for myself, so I ordered room service!
I ordered Biltong Carbonara and omg it was seriously so so good! I would def order that again and could eat it several times!
Day Two -
Neighbourgoods Market | Bo-Kaap | Afternoon Tea at Belmond Mount Nelson | Table Mountain for Sunset | Dinner at Black Sheep
Neighbourgoods Market
We've been to a few markets in the past, but this one was definitely the best. There were so many different booths with all sorts of food- avocado toast, crepes, burgers, paella, smoothies, beer, basically just about everything you could think of! Like look how big that pan of paella is in the first photo!
So not only did they have all these different food booths, but there was also fresh fruit/ veggies, flowers and so many boutiques! We went into most of them, but ended up not getting anything because the clothes were too expensive IMO. Which I found strange since everything else in Cape Town was so cheap! However, Neighbourgoods is a high tourist destination, so of course the prices are going to be higher!
Another great photo op! Bo-Kaap is a town where there's this street full of colorful houses. Only shame is there's so many cars parked along the street blocking them!
High Tea at Belmond Mount Nelson
A pink palace with beautiful landscaping a flowers everywhere! I'm going to be real with y'all - high tea was not anything great at all, however it was much cheaper than in London and the experience of getting to see the hotel and grounds was definitely worth going!
Table Mountain (Round One)
The Table Cloth of Table Mountain
So we had the great idea of going to Table Mountain for sunset, but unfortunately it was so cloudy that we couldn't even see anything! Whenever this happens they call it the table cloth of table mountain, which I find quite funny. It was cool that we were literally up in a cloud, yet kinda sucked that we couldn't see anything. Which is why we went again! Both times were a completely different experience and I'm actually glad we ended up going twice.
Day Three -
Winelands Trip - Paarl (Fairview), Stellenbosch (Muratie, Lunch at Tokara & Delaire Graff Estate) & Franschhoek | Cheetah Preserve
Wine with goat cheese tasting! I love goat cheese so I enjoyed this tasting because of that, wasn't huge on the wine, but that's just because I'm super picky and don't really like wine in general. However the grounds/estate is very pretty and they have a lot of Rose here. We actually bought a limited edition bottle of wine here for Aria's dad and it was only $40. Can't beat that price in the states!
One of the oldest estates with a story of a man and his wife/mistress. We did a port tasting here and I actually enjoyed them since ports are on the sweeter side. I also really liked how I was able to walk through the vineyards here, apparently that's not a thing at others. Beautiful estate, vineyards and views.
Lunch at Tokara Delicatessen
So happy we ended up eating here, because it was so so good! This was a Caesar Salad and it's one of the best ones we've had!
Now this one was definitely next level. The views and landscaping are absolutely incredible! Very posh place for people to go and be seen. This was our last tasting of the day and I can honestly say I didn't like any of the wines, however viewing the estate itself was worth the trip!
This wasn't a planned thing, I had actually fallen asleep on the car ride due to the previous wine tastings, sun and just being tired, but all of a sudden I hear Jurie say cheetahs and I hop up so fast! At the bottom of Spier Wine Farm they have a cheetah preserve! There are three cheetahs here and you can actually pet them! Cheetahs actually have really weak immune systems due to them becoming extinct and the inbreeding, so we had to sanitize our hands and bottom of our shoes before we were able to go inside. It looks like the cheetah is sedated in this photo, but it's not. He is wearing a collar and the guide is holding onto him with a leash for safety precautions. They purr just like house cats when you pet them!
Since we weren't able to go on a safari due to lack of time, I was so happy that we at least got to do this!
Day Four -
Sunrise at Signal Hill | Kirstenbosch Botanical Gardens | Table Mountain (Round Two) | Bike Riding from Seapoint Promenade to Clifton Beach to Camps Bay | Sunset Cruise and dinner at V&A Waterfront
Signal Hill
Signal Hill is a very popular spot to watch the sunrise and I can definitely see why. The view was incredible!
Kirstenbosch Botanical Gardens
Kirstenbosch Canopy Walkway
We've been to a few botanical gardens in the past, but once again Cape Town's Kirstenbosch blew the others away. Everything was so beautifully landscaped and so luscious. Def a must see!
Incredible Views at Every Vantage Point
So the reason we went to Table Mountain twice is because the first time we went was so cloudy we couldn't see anything and we knew we were missing out. This time we were able to see everything and I'm so glad we ended up going again…I mean look at this photo! Luckily I'm not scared of heights so I'll do whatever I can (as long as it's semi-safe) for the gram.
Bike Riding from Seapoint Promenade to Camps Bay
Bike Riding Along the Seawall
I absolutely love riding bikes when we're on vacation, since we normally like to walk everywhere this is an alternative that gives my feet a break! Riding along the beaches while getting a tan, feeling that wind in your face and smelling the salt from the sea was wonderful.
We ate at the Codfather in Camps Bay and the seafood was so fresh and so so good! The sushi was almost just as good as in Japan! Highly recommend!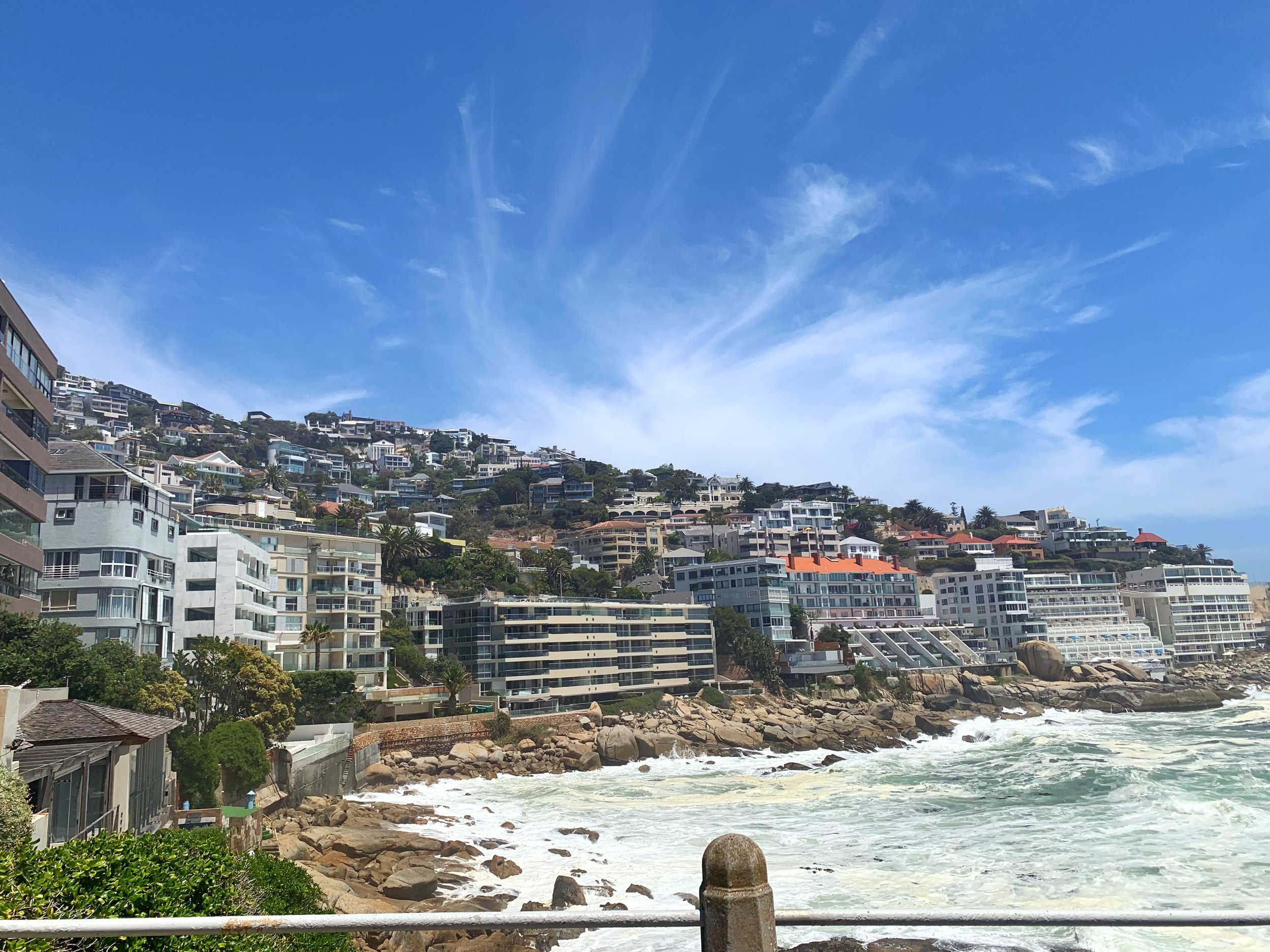 Sunset Cruise at V&A Waterfront
High tourist destination, but great for souvenirs and high end shopping.
The sunset cruise was a last minute decision since one of my friends was doing it. I'm glad we went, since I love sunsets but holy cow it was so cold! Thankfully they have blankets on the boat. We saw a couple dolphins so that was nice too. Whale season is June - November so unfortunately we didn't see any!
Day Five -
Spa Day / Township Tour | Lunch at Mama Africa | Dinner at The Pot Luck Club
Massage at Jiva Spa
My massage at Jiva Spa was so so nice! It had been quite a while since I had gotten a massage last and this one did not disappoint. My massage therapist listened to what I wanted and did a wonderful job! After my massage I went into the relaxation room to well you know, relax, and rehydrate. I had the best tea I've ever had there! I actually need to send them an email to find out what tea it was because I enjoyed it so much. I also don't really like infused water, but theirs was also way better than I've ever had. Definitely take advantage of the cheaper prices and book a massage!
Township Tour
The townships formed after apartheid happened and they pushed all of the colored people out of the city. We got to see the high/middle/low class parts of the townships and it varied greatly. The lowest class doesn't have any running water and have to go to a well. Got to try out freshly brewed beer out of a pot roasting on a fire.
However, there are lot of cool projects going on - they're trying to implement proper education, promote entrepreneurship and trying to get people out of the township to have a better life. Funny enough, there's an Asia Town in one of the townships.
I was getting my massage, so that's the reason I didn't go on this tour and these are Aria's experiences/opinions.
Definitely a high tourist spot, however we were wanting to try the different meats so that's why we went! Everything was delicious, except I didn't care too much for the texture of the ostrich, it was very chewy! Since this is a tourist spot, prices are also higher.
Wonderful Views & Small Plates
The Pot Luck Club reminded us of UB Preserve in Houston; it's a lot of very tasty small plates! Everything we ate was very good and the walls are basically floor to ceiling windows so you get spectacular views of the city! Seemed like there were a lot of high class locals here instead of tourists.
+ It may be hot, but it's also windy so be sure to pack a jacket! Going off of that - sunscreen is a must
+ Wake up early to watch the sunrise, it's worth it
+ Credit cards are widely accepted, however it's always good to have a little cash
+ They drive on the opposite side of the road and every vehicle is stick shift, so I'd recommend to get around by Uber, it's super cheap
+ Basically everyone speaks English
+ Hire a personal driver like Jurie to take you around on the day trips vs a tour bus
+ Cape Town is beautiful. Soak everything in, but also take your time doing so